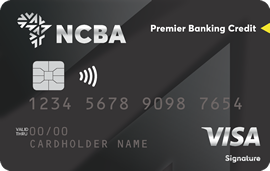 Card Overview
Credit Limit
Up to 3,000,000
Supplementary Cards
Up to 5 Free
Buyer's Protection
Up to $3,000,000
Access To
Worldwide Airport Lounges
Features and Benefits
Airport Lounge Access Auto-enrollment: 6 free visits (as a cardholder) plus one guest free per visit, annually to over 1,200 airport lounges worldwide. Additional visits will be charged in your next statement cycle at United States Dollars Thirty-Two (USD 32) per visit, per person.
Card Rewards: access exclusive discounts at selected outlets when you pay using your NCBA Card. For details on these outlets, visit Card Offers
Access to Visa local offers – Visa local offers
Emergency medical expenses and repatriation benefits insurance; Your international emergency medical services will cover you, the cardholder and/or whoever you purchased a ticket for with your Visa Signature, in case of accidents or medical emergencies that occur when you are enjoying your trips abroad.
Please note that it is mandatory to generate the Travel Certificate before each eligible trip through Card Benefits Online ( select Insurance Travel insurance then key in your card details)
Buyers protection (BP) and Extended Warranty; you have an additional 24 months warranty for purchases made with your Visa Signature card. Buyers' Protection limit for a year is up to $20,000 and up to $7,500 per cover.
Free access to multi-lingual 24/7/365 support for cardholder inquiries, lost or stolen card reporting and emergency card replacement.
Emergency cash disbursement if you lose your Visa Signature card.
Visa Luxury Hotel Collection: The best available rate guarantees a curated collection of over 900 hotels around the world.
Note: Customers must book through Visa Luxury Hotels to redeem the offer.
Safety and security: NCBA Signature cards are Pin and Chip enabled and further secured by Verified by Visa for secure online transactions.
For more information on Visa benefits and lifestyle benefits please log onto Visa benefits
You can also download the Visa benefits & offers app from the play store on Google Play or the App Store on IOS.
We have waived credit card joining fees until 31st December 2023
Still Not Sure?
* Terms and conditions apply