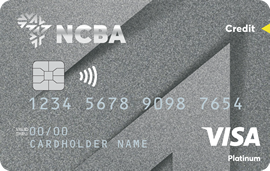 Card Overview
Limit
KES. 600,000 - 1,500,000
Complimentary Cards
Up to 5 Free
Travel Insurance
Up to $1,000,000
Features and Benefits
LoungeKey – Get access to over 800 VIP airport lounges worldwide with annual fees and your first two visits of the year free.
Enjoy experiences at discounted rates with NCBA Alliance Partners.
Unsurpassed value at over 900 prestigious properties around the world for a range of tastes and budgets, from boutique gems to premium hotels and resorts. This hand-selected portfolio that includes brands such as the Mandarin Oriental Hotel Group, Park Hyatt Hotels, Amani Resorts , and Six Senses Hotels Resorts was developed exclusively for you.
Short term purchase protection cover against theft, loss or accidental damage for all purchases made with your card, valid for 60 days after purchase. Covers up to $1,500 on single items and $3,000 per claim. Yearly maximum of $20,000.
Extended warranty cover for up to 24 months after purchase of an item.
Free access in multi-lingual 24/7/365 support for cardholder inquiries, lost or stolen card reporting, emergency card replacement and emergency cash disbursement of up to USD. 5,000.
Free access to a wide range of medical and legal advice such as telephone medical advice, medical provider referral, monitoring of patients in a hospital, essential medical equipment delivery, hospital admittance guarantee, evacuation or repatriation.
Travel insurance activated when you purchase your flight ticket using your Platinum card.
Balance Transfer: Consolidate all your credit card balances into your new credit card, provided balances are within your card limit.
Consolidated monthly e-statements.
Check your credit card balance anytime using Online or Mobile Banking.
Enhanced security for online transactions through One-time Passwords, Pin and Chip technology and Verified by Visa (Visa) (OTP) sent to the cardholder.
We have waived credit card joining fees until 31st December 2023
Still Not Sure?
* Terms and conditions apply