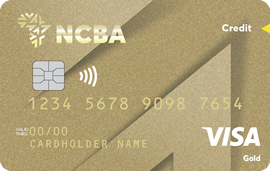 Card Overview
Credit Bonus
Up to KES 5,000
Buyer's Protection
Up to KES 100,000
Features and Benefits
Airport Lounge Access: access to over 1,200 airport lounges worldwide at a cost of USD 32 per visit, per person.
Access to Visa local offers – Visa local offers
Card Rewards: access exclusive discounts at selected outlets when you pay using your NCBA Card. For details on these outlets, visit Card Offers
Emergency medical and legal assistance while travelling out of the country. Medical service provider referral, Monitoring medical condition pre and post-hospitalization, legal referral etc. Note this does not include travel insurance. 
Free access to multi-lingual 24/7/365 support for cardholder inquiries lost or stolen card reporting and emergency card replacement.
Emergency cash disbursement if you lose your Visa Gold card.
Buyers protection (BP) and Extended Warranty; you have an additional 24 months warranty for purchases made with your Visa Gold card.
‐Buyer's Protection limit for a year is up to $500 and up to $250 per cover. Note: Full payment of purchased items must be made with your Visa Gold card either in-store or online.
‐Only newly-purchased items are covered.
‐Only coverage for Accidental Damage in respect of mobile phones for up to 180 days
Safety and security: NCBA Gold cards are Pin and Chip enabled and further secured by Verified by Visa for secure online transactions.
For more information on Visa benefits and lifestyle benefits please log onto Visa benefits
You can also download the Visa benefits & offers app from the play store on Google Play or the App Store on IOS.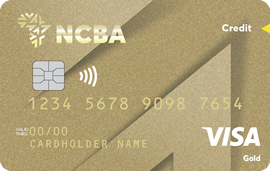 Still Not Sure?
* Terms and conditions apply