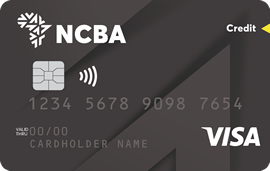 Card Overview
Credit Bonus
Up to KES 5,000
Free Insurance
Buyer's Protection
Features and Benefits
No extra cost: Pay at a point of sale or online free of charge when shopping, dining, fueling etc.
Free monthly statements: Get free monthly statements on your email or postal address to enable you to keep track of your spending.
Free alerts for all your transactions: SMS alerts are sent to your mobile for every transaction to enable you to keep track of all transactions done.
Free access to multi-lingual 24/7/365 support for cardholder inquiries, lost or stolen card reporting and emergency card replacement.
Card Rewards: access exclusive discounts at selected outlets when you pay using your NCBA Card. For details on these outlets, visit Card Offers
Safety and security: NCBA Classic cards are Pin and Chip enabled and further secured by Verified by Visa for secure online transactions.
We have waived credit card joining fees until 31st December 2023
Still Not Sure?
* Terms and conditions apply