Deluxe Motors and NCBA Bank Sign Asset Finance Deal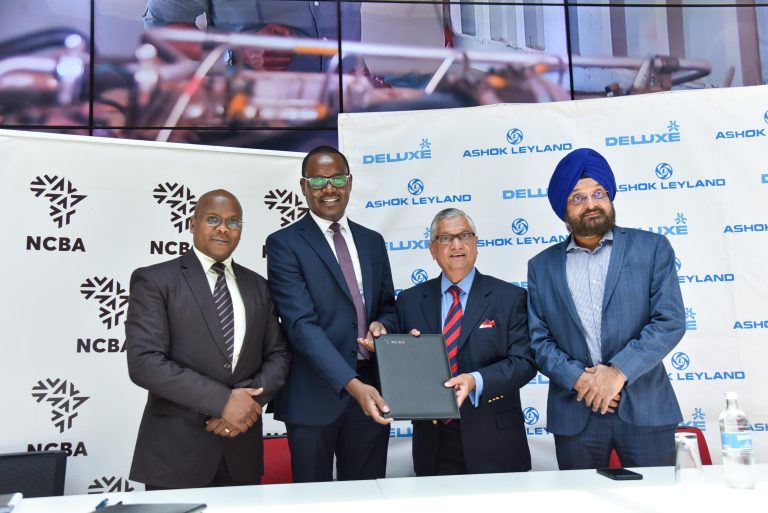 March 6, 2023
NCBA Bank in Kenya has today signed an asset finance deal with Deluxe Motors that will see the lender offer up to 90% financing, for Ashok Leyland trucks and buses. The Small and Micro Enterprise sector, which is the largest employer in Kenya, will be the biggest beneficiary of this unique financing partnership, which will run for the next three months.
The partnership will offer customers up to 90% financing over a maximum tenor of 60 months. In addition, customers will receive a grace period of 60 days after the vehicle release date before loan repayment can begin.
Ameet Shroff, Managing Director Deluxe Trucks and Buses E.A. Ltd said, "Financing has been a key driver for businesses to take up assets that will help them drive up their production and recover after a period of suppressed economic activity. At Ashok Leyland we are selling a range of trucks from 3.5 ton to 14 tons with a wide range of applications from the Construction and Mining industry to Manufacturing and Logistics. All our trucks are assembled locally at the Associated Vehicle Assemblers assembly plant in Mombasa and are specifically engineered for local conditions."
"We are very proud of this milestone and with Simba Corp and Deluxe Trucks and Buses we are encouraged by the growth potential of the Kenyan market for Ashok Leyland. We are in this market to help businesses in construction, mining, logistics, delivery to continue growing. Our product ranges from the Phoenix, the Boss to the 2315 Tipper helps MSME's and SMEs continue to expand and grow their businesses," said President of International Business for Ashok Leyland, Mr. Amandeep Singh.
Lennox Mugambi, Group Director Asset Finance and Business Solutions, NCBA said, "We are excited to enter into this new venture with Deluxe Trucks and Buses. This is a very timely partnership as we are witnessing exponential growth in the construction, mining and education sectors."
"As the market leaders in asset financing, NCBA advocates for adoption of innovative solutions that meet the needs of the market. This partnership is testament that the solution being offered is disruptive and will leverage everyday market insights to deliver working solutions offered by Deluxe. Last year, NCBA grew its market share in Asset Finance to 36% up from 33%" He added.
The move comes as the construction sector is projected to grow driven by the government's infrastructure projects. Last year, Kenya banned the importation of used trucks with load capacities of 3.5 tonnes and above effective July 1, 2022. In the notice issued by Kenya Bureau of Standards, tractor heads and prime movers not older than three years will continue to be imported until June 2023 after which only new units will be allowed in.
Additionally, Deluxe Trucks and Buses have been expanding their dealer network adding Plateau Motors in Machakos who will provide comprehensive sales, genuine parts, and services for the full vehicle range, including the Phoenix, The Boss, and the Tipper Truck 2315. This partnership will help bring the Ashok Leyland range of trucks and buses even closer to the MSME's and SME's who need them.